There's only a day left until Black Friday and we can barely contain our excitement. You aren't missing any shopping festival in any part of the world when the day rolls around. It's so anticipated that shopoholics look forward to it more than Diwali and Christmas combined! And when you add Cyber Monday to the mix, you can be rest assured it's a jam-packed weekend to shop your pockets out. This time around, Myntra is joining in on the fun as well.
Possibly the best part of Black Friday are the wide array of categories up for grabs. Whether you've got your eyes on a silk saree for the bridal season, a pair of pumps to wear to work, a sequinned blouse for the parties lined up or a snazzy handbag to accessorise with, the choices are endless. From party wear to work wardrobe to ethnic dressing, we promise you'll be spoiled for choice with the endless options available. Numerous international and Indian brands are all for grabs at 40 to 70% off. Before the day arrives, we've got a pro shopping tip to make your spree a success. Scour the website and take a look at what you want. Add it to your wishlist and wait. When Black Friday arrives, you won't have to fuss around finding what you want in the correct colour and right size. All you will need to do is add it to your shopping cart and check out the great deals you've snagged without worrying it about running out of stock.
(Also Read: New Sweater Design 2019: 10 Style Trends You Will Love To Wear)
Black Friday 2019: 9 Picks For Women From Myntra To Shop For
Before Black Friday arrives, add these 9 pieces to your Myntra wishlist.
1. AKS Anarkali Kurta
The AKS Anarkali Kurta is a cotton and silk blended long sleeve green kurta with gold print.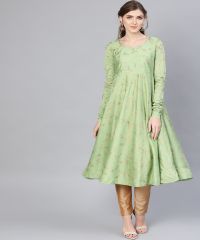 AKS Women Green & Golden Printed Anarkali Kurta
2. Corsica Heels
The Corsica Heels have rose gold toned straps with a 5-inch heel.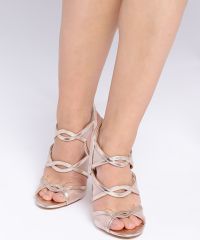 CORSICA Women Rose Gold-Toned Solid Heels
3. Inddus Maxi Dress
The Inddus Maxi Dress is a peach cotton maxi dress with short sleeves, an embroidered top and flowing skirt.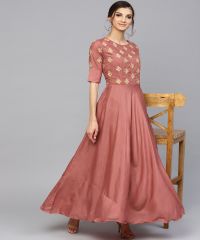 Inddus Women Mauve Embellished Maxi Dress
4. Miaminx Dress
The Miaminx Red Dress has thin straps with a V-neck and flared fit in bright red.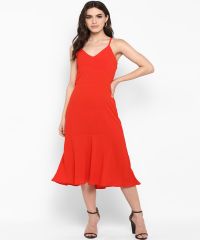 MIAMINX Women Solid Red Empire Dress
5. Roadster Cropped Jeans
The Roadster Cropped Jeans are light blue distressed jeans which are mid-rise and skinny fitted.